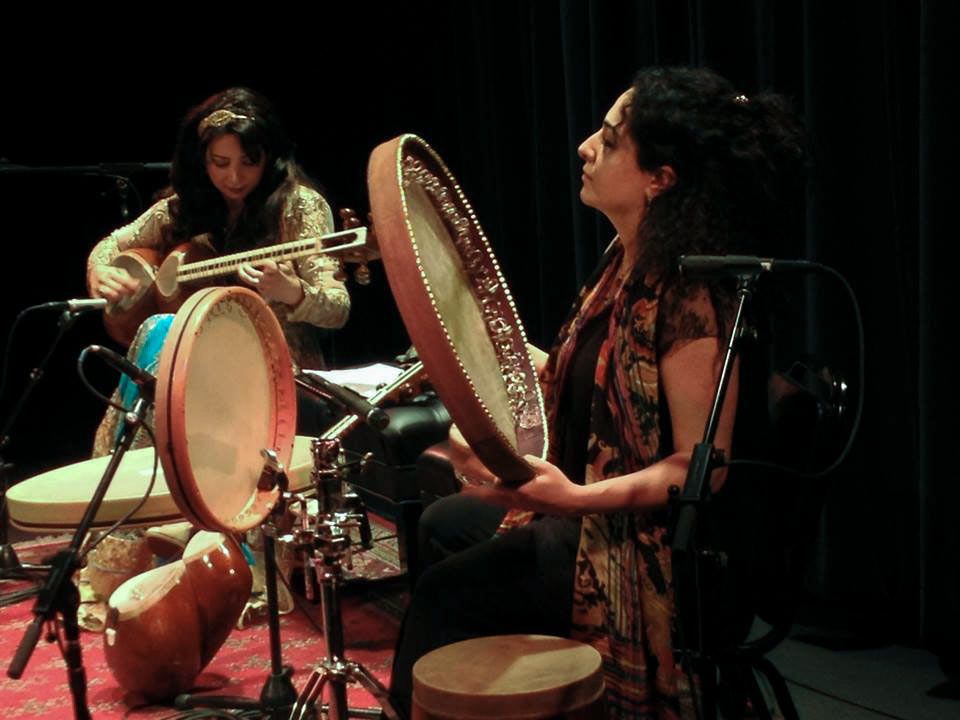 September 12, 2017, by Hannah Maes, Arts and Rec Editornd gravida 
After years of struggle in a war-torn Middle Eastern country, Persian musician Sabha Motallebi moved to the U.S. to continue her musical journey. 
University of Wisconsin-Whitewater students will have the opportunity to hear the music inspired by her struggles firsthand Sept. 19 at the annual World Music Festival in the Young Auditorium, a cultural event hosted on campus featuring Persian musician Motallebi. Accompanying her will be percussionist Naghmeh Farahmand, who specializes in Persian rhythms and Middle Eastern and Oriental vocals.
Motallebi is an internationally recognized musician specializing in the traditional Middle Eastern instruments the tar and setar, but puts a modern spin on these plucky stringed instruments. 
Garnering respect at a young age, Motallebi saw success at 14 when she was invited to study at the Tehran Conservatory of Music. Motallebi's personal manager and booking agent, Craig S. Hyman, explains the prestigious path she took to become the musician she is today. 
"Sabha is a pretty big superstar in the Persian world," Hyman said. "She studied under all of the masters … when she was 11 years old. At 14 she played with Tehran Conservatory and at 18 she formed her first all-female band." 
Growing up, Motallebi experienced many hardships, which fueled her love for music and motivated her to continue to create passionate compositions. Motallebi talks about her early inspirations for her music and reasons for perfecting her talent. 
"I remember my first performance," Motallebi said. "I was only 12 years old when I started performing for my people. 
"It was for a hurricane that hit north Iran and they were trying to collect a bit of money to help those hurt and for those who lost their lives," Motallebi added. "I performed there and it was motivating to do stuff for my people." 
Growing up, music wasn't encouraged for her as a profession, but through self motivation and parental guidance, she overcame the odds and has become one of the most well-known Persian musicians in the world. 
"Music is part of my body, it is part of my soul. I cannot even think of it being separated from me," Motallebi said. "I came from a musician family who had lots of attraction to music but at that moment my parents hadn't had any opportunity to get higher education in music … their family rejected them from that because of the society." 
Higher education was not easily accessible to everyone, especially not for those pursuing the arts. 
"We were not able to go to university after high school so [my parents] tried to give us an asset so that we cannot be heartbroken because we cannot have higher education … because of our religion, so all all the time our heart was shining." 
Hyman talks about how students should approach Motallebi's unique music style and be open to a new musical experience. 
"Students should bring their heart, mind and soul. Sitting and relaxing, listening to two astonishing players. It's the kind of music that transforms you. Be ready to absorb a great amount of history through the instruments … she plays based on experiences in her life up to the moment," Hyman said. 
"[Sabha's] really the only woman doing this at her level, as good as her master's, developing her career in the U.S. and Canada," he added. 
After performing for years with her own female band, Motallebi moved to Los Angeles to pursue further music education. Such a drastic move and change in her life also caused changes in her music style. 
"It's been about 12 years that I have been in the United States and studied in California," Motallebi said. "I started feeling and hearing very different sounds. If we have a very powerful melody and we combine it with very powerful rhythm, like African music, we can create lots of power. 
"It was a very musical moment when I found how I can collaborate all the music techniques and ideas to my music and attract a new generation and musicians," she said. 
Motallebi's style in unlike any other, Hyman said, and her presence at Whitewater's World Music Festival provides student's with a once-in-a lifetime opportunity to see a modern spin on Persian and Iranian traditional music. She doesn't believe in limitations in life, and especially not when it comes to music. 
"We keep our heritage alive and we try to keep it new," Motallebi said. 
Hyman talks about Motallebi's goals for her performance on campus and what we can expect from this worldly musical experience. 
"Sabha's goal is to give the gift of music and to encourage as many people as possible to ask questions, take pictures and connect with her." 
Original Article Link: Royal Purple News